Background
Total Visual Agent lets you easily schedule and execute the repetitive tasks your databases need. Schedule a wide range of tasks and run them in a fully automated and audited manner. Set start times and end times, and receive emails if anything goes wrong.
Question
Why do I have the error "Update Wizard not initialized properly" when trying to run the Update Wizard for Total Visual Agent?
Answer
This error occurs in Total Visual Agent when you attempt to run the Update Wizard by double clicking the "Update.exe" directly instead of running it from the Windows Programs Menu shortcut. This is because the update.exe file requires parameters to run and return the correct information. In order to determine if there is an update available for this product, please run the update wizard program from the Windows Programs menu or Windows Metro menu.
With Total Visual Agent 2013, the Update Wizard is also available from the Help menu when you click "Check for Latest Version":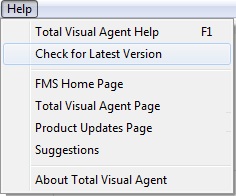 Additional Support Resources