Here's an example of importing code from Total Visual SourceBook that requires adding a library reference.
Launch Total Visual Sourcebook.
Right-click on "CXMLFileCreate" under XML Files on the tree view.
Chose export. This box will appear to add the code to the project:
You will see the mention of a dependency with MSXML.DLL. The module with that the code is imported to needs to create a dependency to the DLL.
Select "Project".
On the next box, chose "Insert".
If the reference is not made and one tries to compile the code from the module editor, this error appears: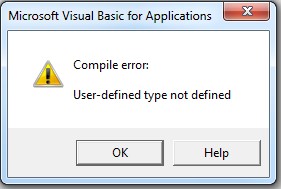 To correct the error, perform the following:
From the module editor, choose "Tools".
Choose "References".
The References box will appear. Scroll until you locate the "Microsoft XML, v6.0" and select it.
Click "Ok".
From the module editor menu, chose "Debug" and then "Compile". 
The error no longer appears. The reference is added successfully.