Problem
Users will occasionally get errors like this: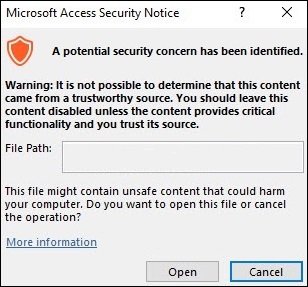 Solution
Many problems with Access can be the result of permissions and security. Especially for network databases in Active Directory domains. One thing to always check is to make sure that you add the file path of your database to Microsoft Access' Trusted Locations.
To do this, follow these instructions:
Open Microsoft Access
Go to File -> Options
Click on "Trust Center", then "Trust Center Settings"
Click on "Trusted Locations" and then "Add new location" to add the location of your database.